Three Rivers Tibetan Cultural Center's Picnic Practice at Frick Park
with Venerable Khenpo Choephel
Sunday, October 15, 2017, 10am-12:30pm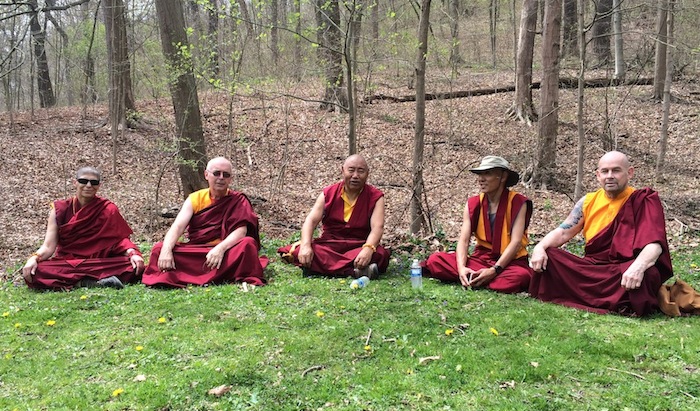 ALL ARE WELCOME
Parking is plenty on Beechwood Blvd.
Enter at Beechwood and Nicolson Street (the Blue Slide Park of Frick Park)
Walk straight along the main road (Riverview Trail)
When seeing the big Riverview Trail sign on your left, DO NOT go down onto that trail but continue a few more yards and walk up a grassy slope. Our destination (the red circled area on the map — click here to download: Frick Park TRTCC Picnic direction ) is at the top of the slope with a wide open view on a flat grassy high ground.
The total walking time from entrance to destination shou(ld be about 10-15 min. (We will put up a sign to direct you.)
Practice will start at 10am, and plan to be there a little earlier to get settled in first.
Bring what you need to make a seat on the grass— mats, cushions, a picnic blanket, folding chairs, etc. or just simply sit on the grass, and wear comfortable clothing.
Wear a hat if you don't want too much sun. Bring your water bottle.
Bring some picnic food that's easy to carry: fruit, crackers, sandwiches, trail mix, nuts, etc.
ALL ARE WELCOME. Encourage or bring your family or friends to practice with us.