TRTCC Teacher Ven. Lama Kalsang

Amitabha Jang Chog Ritual
Saturday, May 18, 2019

The Amitabha Jang Chog puja (ritual) is a Vajrayana practice performed to purify the negative karma of the deceased, who passed away recently or in the distant past, to help them relinquish their clinging to the impermanent human world. It helps them by creating the causes and conditions for their liberation, furthering their journey to the peaceful Pure Land of Buddha Amitabha.
The puja also benefits the living friends or relatives of the deceased through the ritual blessings and accumulation of prayers, chanting, meditation and offering of food and merits on behalf of the deceased, purifying negativity, resolving karmic debts, which may be manifesting as obstacles in life.
This Jang Chog puja will be led by Ven. Lama Kalsang, who first came to Pittsburgh in November 2017 from Drikung Kagyu Rinchen Ling Monastery in Kathmandu, Nepal, and came back again in April 2019. He was ordained in 1992 by H.E. Nubpa Rinpoche and the late Ven. Drubwang Rinpoche. Having studied under many Tibetan Buddhism masters, and trained in the ritual practices at Drikung Kagyu Jangchub Ling in India, Lama Kalsang has served for many years as a chant master, disciplinarian, and treasurer at Drikung Kagyu Rinchen Ling. From 2014-2016 Lama Kalsang was one of the three directors of the Rinchen Ling monastery, where our spiritual director Ven. Khenpo Choephel is serving as their current abbot. Lama Kalsang has traveled to European and Asian cities with his teachers to spread dharma teachings before coming to Three Rivers Tibetan Cultural Center as our resident teacher.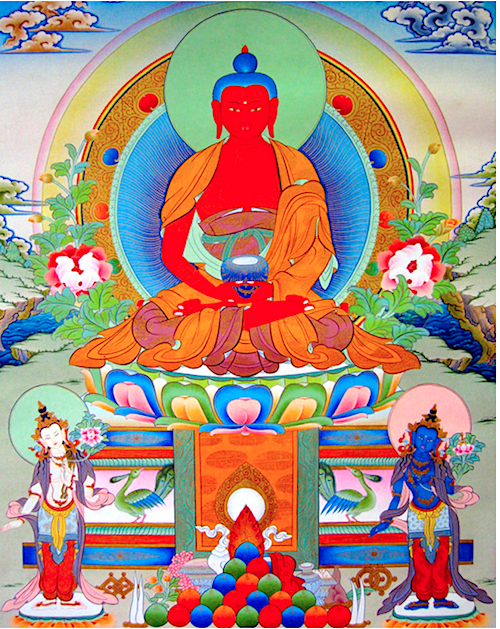 SATURDAY, May 18, 2019
10:00am-12:00pm — The ritual of Buddha Amitabha Jang Chog
12:00pm-2:00pm — Vegetarian Lunch offered by TRTCC sangha
2:00pm-5:00pm — Amitabha Jang Chog practice continues
7:00pm-8:30pm — Full-moon day Medicine Buddha practice

ALL ARE WELCOME
Suggested donation for this Amitabha Jang Chog event is $50 for the whole day. Donations on behalf of your deceased loved ones are gratefully accepted. A simple vegetarian lunch will be offered by our sangha members. Your donations will support TRTCC's teaching programs and cultural events year round. No one will be turned away from dharma teaching because of insufficient funds.
To help us better prepared for this event we request that you let us know you are attending, and, if appropriate, include the names of your deceased relatives or friends by emailing us at: threeriversdharma@gmail.com
To download a flyer please click here: Amitabha Jang Chog Ritual May18, 2019 flyer
or click on the image: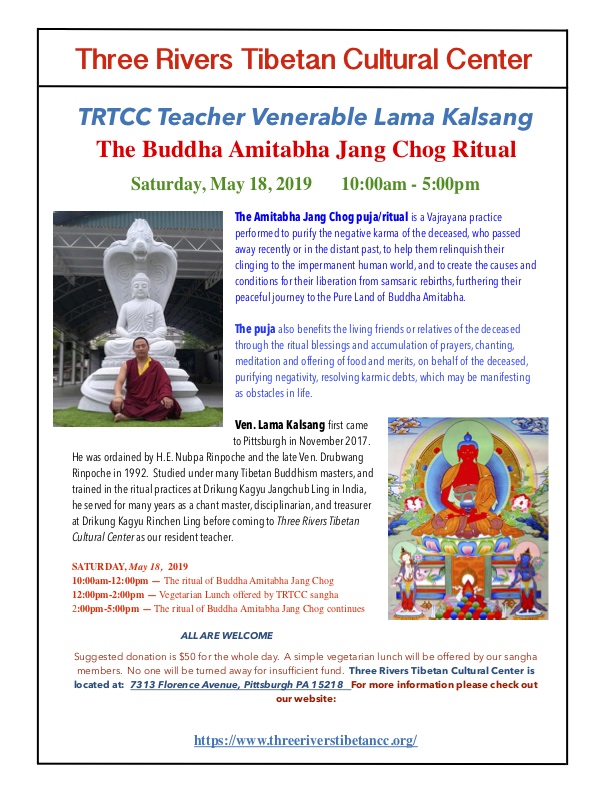 Three Rivers Tibetan Cultural Center is located at:
7313 Florence Avenue, Pittsburgh PA 15218