Tibetan New Year
ལོ་གསར
Losar Celebration at TRTCC
Special Guru Yoga Practice with Tsok (Food Offering)
Sunday, February 23, 2020, 10am-noon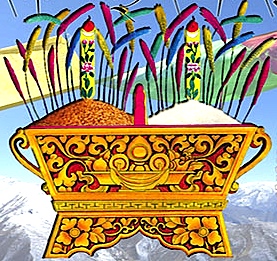 On Sunday, February 23rd, our resident teacher Ven. Lama Kalsang will be leading the Losar celebration with a Guru Yoga Practice followed by a new year lunch with traditional Tibetan festive food like Momos, Tibetan dumplings, Khapse, deep-fried twisted dough, and Dresil, sweet rice, for this special occasion.
Lama Kalsang has also been working on decorating the center with his colorful tormas, ceremonial butter cakes for offering.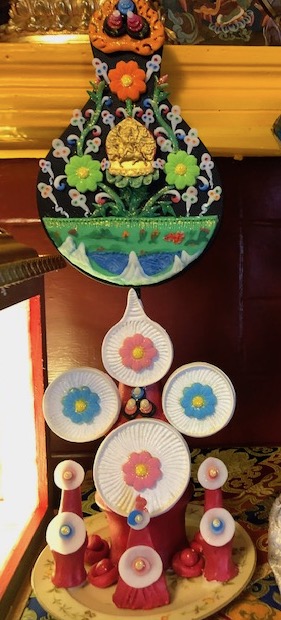 The first day of Losar is on Monday, February 24, this year.  On the third day of the new year, Wednesday morning, February 26th, Lama Kalsang will lead the Achi Practice at 10 a.m. with a traditional smoke offering.
ALL ARE WELCOME
All sangha members and friends of TRTCC are welcome to join us on either day of these celebrations.  Please let us know if you are planning to attend the Sunday lunch so we can be more prepared to serve you.  Please continue to support Three Rivers Tibetan Cultural Center by making a donation.
Three Rivers Tibetan Cultural Center is located at: 7313 Florence Avenue, Pittsburgh PA 15218