Online Dharma Talks Offered By Guest Teacher Ven. Konchuk Lama Sonam
Saturday & Sunday, 8/29, 8/30 10:00 a.m. to around noon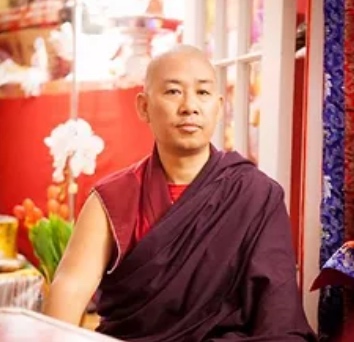 Ven. Lama Konchok Sonam  is the current resident spiritual director of Drikung Meditation Center in Arlington, Massachusetts. He began his Buddhist training at a young age in the Drikung Kagyu lineage in Tibet, and ordained as a monk at the age of 18. He has received teachings and blessing from many great scholars and masters in Tibetan Buddhism, and has been in the United States since 2003, giving teachings in fluent English.
Known for his warm and humorous, down-to-earth teaching styles, Lama Sonam has been a devoted dharma and meditation teacher and a tireless community service provider. He has come to TRTCC numerous times in the past years, offering a wide range of teaching topics including wisdom deity empowerments and practices, and the series on Omniscient Rigdzin Choedrak's Mind-Training.  In a 5-day open event in February 2018, he and our resident teacher Ven. Lama Kalsang constructed a Chenrezig Sand Mandala at the Pittsburgh Center For The Arts, sending the blessings of peace and loving kindness of the mandala to all beings and everywhere in the world.
For this weekend's online dharma talk, Lama Sonam will be sharing his wisdom with us on these topics, followed by Q&A at the end:
How to use our Dharma practice to deal with our current difficult circumstances, and
How we can use the difficult circumstances as a support for our Dharma practice.
All Are Welcome!  Please join us!
Link for Zoom Meeting 8/29: https://us02web.zoom.us/j/83276935726?pwd=dTJMcFJuYk92OVVKT0NXRHEybVBCZz09
Link for Zoom Meeting 8/30  https://us02web.zoom.us/j/82280028309?pwd=QTRlVlM4K2MxaFdzWjlZQVFuaGdqQT09
_______________________________
Lama Sonam and the Drikung Meditation Center community have been working on raising funds to purchase a new facility to provide greater space and accommodation for more dharma services, for large gatherings of practice groups, retreats and guest housing. Lama Sonam has offered many open teachings and empowering practices online through their website:
https://www.drikungboston.org/
As a way for us to show our gratitude for Lama Sonam's kind and determined efforts to spread the dharma and teachings, we would like to give a donation to Lama Sonam to show our appreciation. This is a great opportunity for our sangha to create the positive karma connecting with Lama Sonam's aspirations and his sangha group in the Boston area. Our two centers have had a close relationship ever since our spiritual director Ven. Khenpo Choephel came to Pittsburgh in 2011, and it is good for us to support each other.
Please give what you can.  No amount is too great or too small.  If you are making a donation to TRTCC via PayPal please specify the amount you would like to be sent to Lama Sonam and DMC, or send it directly to their website.
Here is a link to a Youtube video that Lama Sonam's group has produced about the future Jokhang Temple:
https://www.youtube.com/watch?time_continue=9&v=7-wQzgTnTV8&feature=emb_logo
Thank you for your generosity supporting Lama Sonam's vision.
May this benefit all.