November 6, 7, & 8    TREASURY OF SIDDHIS— 2nd International Medicine Buddha Retreat led by H.E. Drikung Tritsab Gyabra rinpoche.
To register and have a glimpse of their schedules: https://udharmanc.ck.page/965971eafc
Friday, 11/6, 8:30–10:30 PM (EST)
OPENING SESSION: His Eminence gives the reading-transmission (lung) for the Medicine Buddha Sadhana, Treasury of Siddhis.
Sunday, 11/8, 7:00–9:00 AM (EST)
CLOSING SESSION: Tsok-Offering & Dedication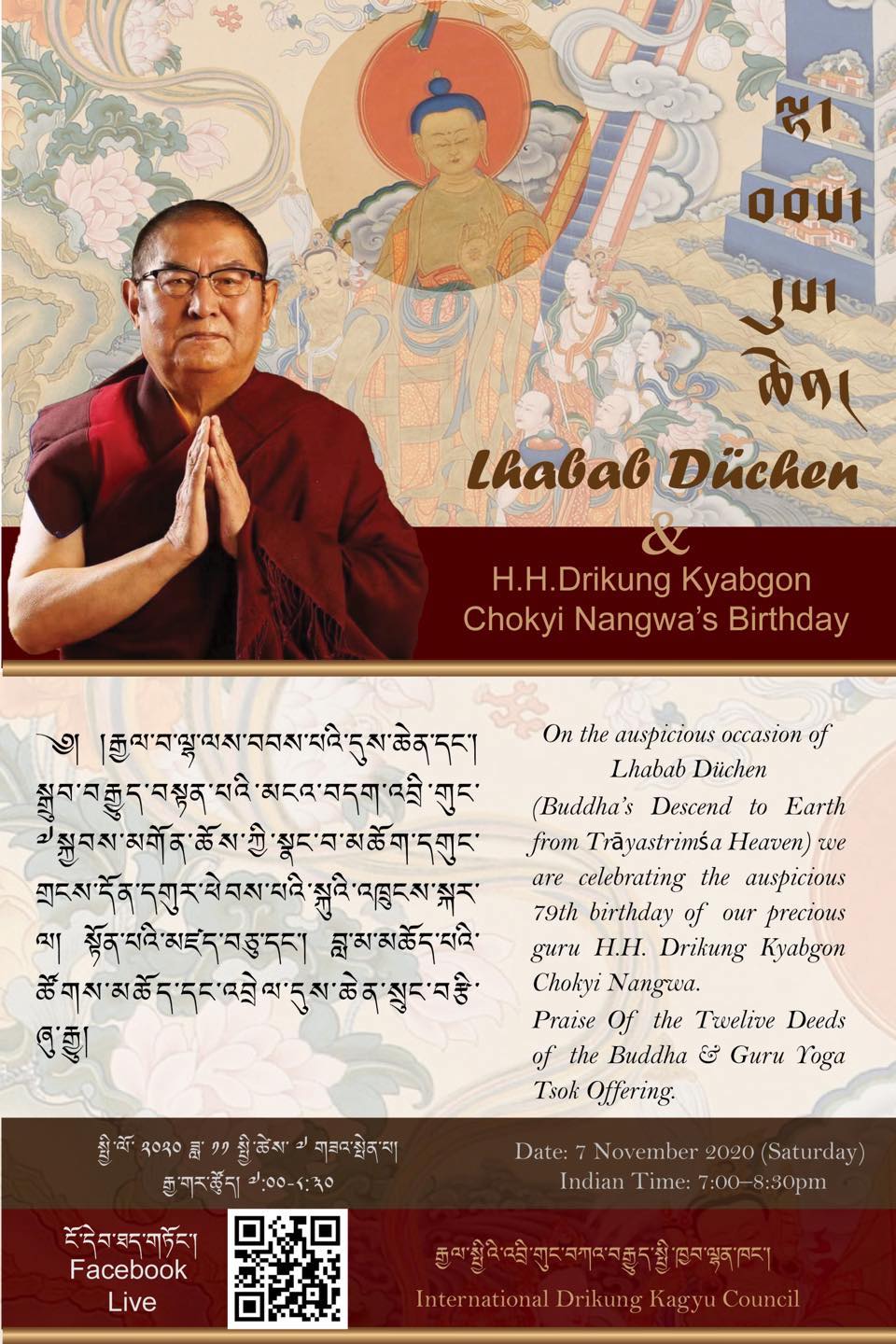 International Drikung Kagyu Council
Saturday, 11/7/2020
8:30 am. – 10:00 am. EST
Virtual LIVE Program of Lhabab Düchen & 79th Birthday Celebration of H.H. the Drikung Kyabgon Chokyi Nangwa, with Praise Of the Twelve Deeds of the Buddha and Guru Yoga Tsok Offering.
The event will be graciously led by :
H.E. Garchen Rinpoche
H. E. Choje Togdan Rinpoche
H.E. Choje Ayang Rinpoche
H.E. Nupa Rinpoche
H.E. Ontrul Rinpoche
Most Ven. Khenchen Konchog Gyaltsen
Most Ven. Khenchen Nyima Gyaltsen
Tulkus, Khenpos, Dorzins, Drubpons, Lobpons and general sangha members will also participate.
Facebook Live:
https://www.facebook.com/IDKC2016