The Tibetan Nuns Calendars 2021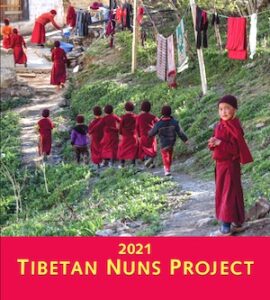 The Tibetan Nuns calendars have arrived and are available now for purchase. This calendar is produced by the Tibetan Nuns Project as one of their main fundraisers, and all proceeds go to support nuns in Nepal and India. It has the Western and Tibetan calendars combined, with all the special practice days, and pictures from the nunneries. The Tibetan Nuns Project does great work to support these nuns, and you can find out more about them at http://www.tnp.org.
The calendars cost $12 each. The challenge we face this year is how to distribute them to you. We have a couple options. One is to make arrangements via email for the calendar to be put on the front porch for you to pick up at a designated time. The second is to have the calendar mailed to you. If you use this option, please add a couple dollars to cover the postage.  (Please note that our center does not make any money from this calendar; all the money is given to the TNP).
Options for payment: 
make a check out to our center, TRTCC, and send it to 7313 Florence Ave, Swissvale PA 15218. Please write "Nuns calendar" on the memo line.
use PayPal (click on the "donate" button on the website) to pay; please add a dollar to cover their fees. Add a note to designate this as payment for a calendar.
put cash in an envelope that says "Nuns calendar" and put this in our mailbox when you pick it up.
These are great calendars, and we hope that you can continue to support the Tibetan Nuns Project!
Contact us at:  threeriversdharma@gmail.com