Sunday, 5/2/2021, 10:00am Tara Practice Online with Ven. Lama Kalsang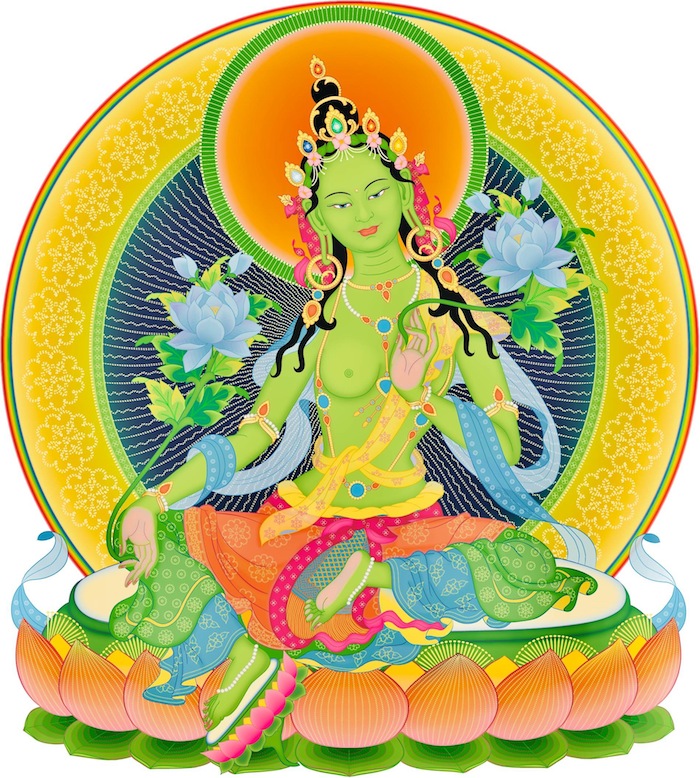 This Sunday, 5/2/2021, Ven. Lama Kalsang will lead the TaraPractice online.  Tara, the meditation deity in female forms, embodies the wisdom energies of compassionate fearlessness.  This deity yoga practice is for us to cultivate the connection to this feminine energy of compassion and wisdom through visualization and chanting.  Please join us:
Recurring weekly:
Every Tuesday at 7 pm. Introduction to Practice. This six-week class, led by Jonnie Viakley, will offer an explanation of the opening prayers of the center's practices and the Buddhist philosophy they embody. Each session will also include meditation and basic meditation instruction. Below is a link to a short introduction to Tibetan Buddhism, which would be helpful to read. To join our Tuesday Zoom meeting: https://us02web.zoom.us/j/86948423253?pwd=amUxZ2dUUG10YlZScXFUaVlUdHVYZz09
Introduction to Tibetan Buddhism
TRTCC Prayer Book with long life prayer
____________________________________________________
Basic Buddhism: Practice and Study with Lama Kalsang and Jonnie Viakley will be back on Saturday, May 8 at 10 a.m. with study of The Wheel of Life, which is a series of visual images arranged in mandala form that represent the Buddha's teachings on the nature of samsara. The Wheel of Life is at the entrance to almost every Tibetan prayer hall, including ours, where a thangka painting hangs just inside the entry.
To receive our weekly updates of upcoming teachings or special events please click subscribe to join our mailing list.

ALL ARE WELCOME
Email Us:
TRTCC@threeriverstibetancc.org
Write to us:
7313 Florence Ave.
Swissvale, PA, 15218
____________________________________________________
Our mission is to create a welcoming community that cultivates compassion and wisdom through Tibetan Buddhist teachings and meditation practices.
Our spiritual director Venerable Khenpo Choephel is trained in the Drikung Kagyu lineage of Tibetan Buddhism, a master in ritual arts and chanting, and committed to making the Buddha's teachings accessible to everyone.
Please support us by donating to our center. Any help that you are able to give will support our center's many cultural and educational activities and benefit our community of practitioners. Your generosity is always appreciated here.