Green Tara Empowerment
bestowed by Venerable Khenpo Choephel
Sunday, December 3, 2017, 10am-noon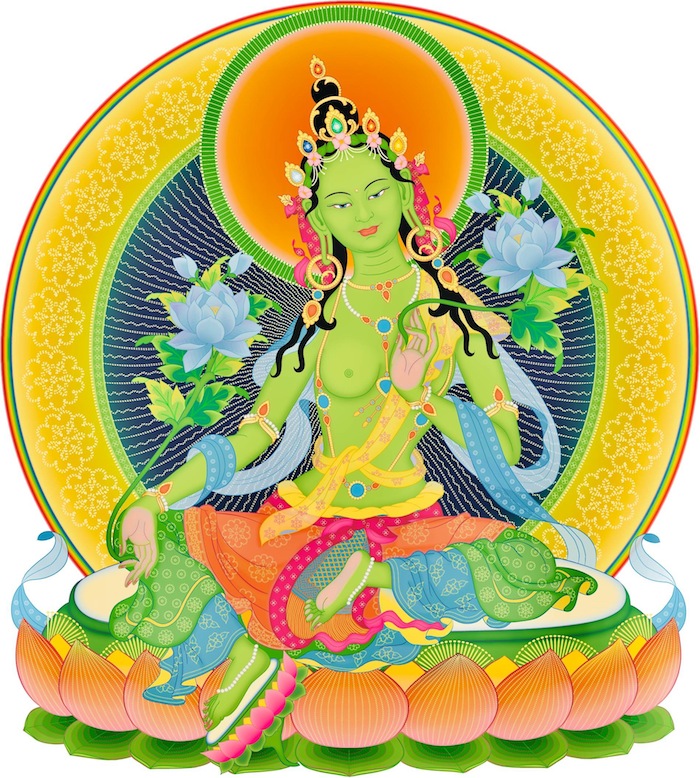 ARYA TARA, the female enlightened being,  is revered in the Tibetan Buddhism tradition as the yidam deity whose compassionate actions liberate sentient beings from suffering and transcend all fears.  Venerable Khenpo Choephel will bestow the empowerment ritual this coming Sunday as an introduction to connect practitioners to the wisdom energy of the deity.
According to Khenpo Choephel, the benefits of Green Tara practice are limitless.  The visualization of the deity and recitation of mantra help practitioners identify with the enlightened qualities of Green Tara, which can help overcome fears and obstacles in life.  The benefit of achieving successes and happiness in life can be cultivated through this practice.  The ultimate benefit is when one realizes the inseparability of one's own true nature with the enlightened mind of the wisdom deity.
Our regular deity practice this Wednesday, November 29, at 7pm is on Green Tara practice.
 ALL ARE WELCOME
As always, your donations to our center will help sustain TRTCC's many teaching and cultural events year round.  Our heartfelt thanks to your continued supports to TRTCC!
Three Rivers Tibetan Cultural Center  is located at: 7313 Florence Avenue, Pittsburgh PA 15218