Bodhisattva Vasudhara Empowerment
Sunday, March 19, 2017

Sunday, 3/19/2017 at TRTCC
10:00AM-12:00PM 1:30-4:00PM
Ven. Khenpo Choephal,  spiritual director of TRTCC, will bestow the empowerment and blessings of Bodhisattva Vasudhara, the embodiment of prosperity, wealth and abundance on Sunday, March 19th, 2017.
The practice is for the benefit of oneself and all beings to have wellness, peace, happiness and abundance in our livelihood. Khenpo Choephel wishes that the blessings of Vasudhara, also known as the goddess of wealth, will bring abundant goodness to all of us in this new year.
ALL ARE WELCOME.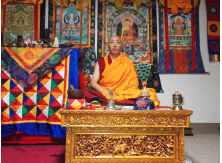 Donations to support our center are important to help sustain TRTCC's many teaching and cultural activities. Please give a donation in an amount that you can give. No one will be turned away for the lack of funds.
To download a flyer:  Vasudhara Empowerment flyer March 2017