LOSAR Celebration Potluck Lunch
Sunday, February 3, 2019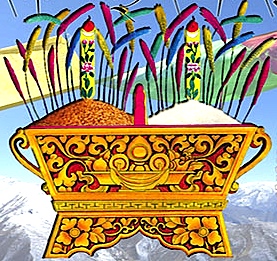 This year, the Tibetan lunar new year LOSAR is on February 5th.  TRTCC wishes you a very peaceful, fruitful, and happy new year coming up.  To celebrate, we are going to have a vegetarian potluck lunch on:
Sunday, February 3rd, after our morning practice, around noon to 1:30pm.
We will provide the staple food.  Please help us with more variety by bringing some favorite food you'll like to share with the sangha.  This is again an informal gathering and is open to all friends of TRTCC.  Everyone is welcome.
To help us prepare for the right amount of food please let us know you are coming.
Email us at: threeriverstibetancc2017@gmail.com
ALL ARE WELCOME
Three Rivers Tibetan Cultural Center is located at:
7313 Florence Avenue, Pittsburgh PA 15218