Mindfulness Fair 3/19/16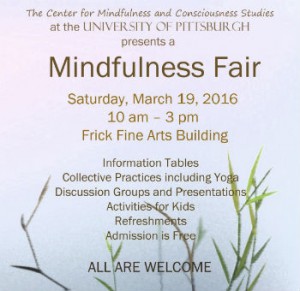 The Center for Mindfulness and Consciousness Studies at the University of Pittsburgh is sponsoring a Mindfulness Fair on Saturday March 19 at the Frick Fine Arts Building on the Pitt campus. It's a family friendly event that will run from 10am-3pm, with a lunch break; there is no admission fee and all are welcome.
This Mindfulness Fair will feature talks, meditation practices, information tables and activities for children. Snacks will be provided. TRTCC will have an information table there and our resident lama Ven. Khenpo Choephel will be a speaker among others who are from different traditions and professions.
HERE is a flyer for the event. We invite everyone to come to this event to learn about the resources and activities related to mindfulness in this region.